Union, NJ (Nov 17, 2020) — ICA Engineering, a leading control system integrator serving clients in the Mid-Atlantic and beyond, announced today the launch of its new brand. The brand is supported by a new website and a complete range of resources designed to bring added value to clients and partners alike. The rebranding is part of the firm's commitment to new growth and expansion to meet new client needs in the marketplace.
The purpose of the new brand is to represent the full range of services the company offers in an action-oriented and visually compelling manner, while also distinguishing the functions as a set of defined offerings that clients can utilize to meet their needs. In addition to the brand launch, the company's new website is rich with features and capabilities designed to enhance the user experience. Some of the new capabilities include:
Fully Responsive – The new site is fully responsive, which means that it automatically adjusts for use on a desktop computer, laptop computer, tablet, or mobile phone. This enables easy use of the site regardless of how it is being viewed.
Comprehensive Blog – Looking for critical ideas and insights on acquisition, integration, fabrication, and leadership for business? ICA Engineering is ready to take your control systems into the future. Look no further than the Company's new blog, featuring regular articles and updates.
Case Studies – Learn how the team at ICA has helped other business owners achieve major results through effective planning and powerful implementation in the stories shared throughout this comprehensive library.
News Center – Stay abreast of new announcements and updates from the firm.
Resources – The team at ICA Engineering is committed to solving complex control system requirements focused on your business success. Use the resource center to download valuable information, view videos, or otherwise learn more about the firm.
Social Media – The site connects users with the Company's social media presence on Facebook, Twitter, and LinkedIn.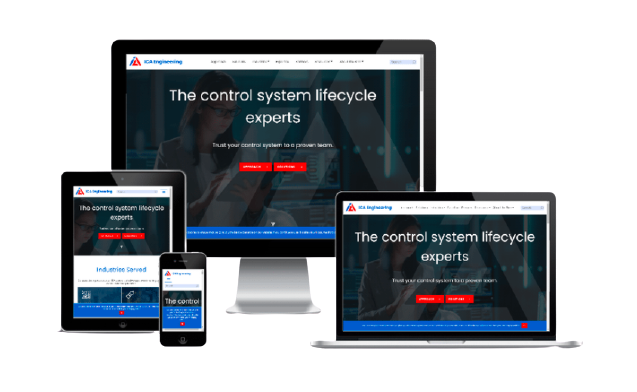 In addition to these features, the new website is truly content-rich with valuable information including details on ICA Engineering capabilities, including:
Approach
Solutions
Industries
Partners
Resources
The new website is also being accompanied by a full brand roll-out online and in print, accompanied by a new e-newsletter and comprehensive digital and social media communications program designed to engage control system engineers, and business decision-makers.
Bookmark www.ica-engineering.com and make time to learn more about how the team at ICA Engineering can deliver powerful control system solutions to your organization today.
About ICA:
ICA Engineering LLC is a control system integrator based in Union, New Jersey. The company was founded in 2009 by Joseph Stevenson, a Chemical Engineer with more than twenty-five years of industrial experience. ICA's employees possess a combined 60+ years of experience in design, installation, project management.
Trust your control system to a proven team that knows how to prepare your operation for the future: the team at ICA Engineering, please visit www.ica-engineering.com.