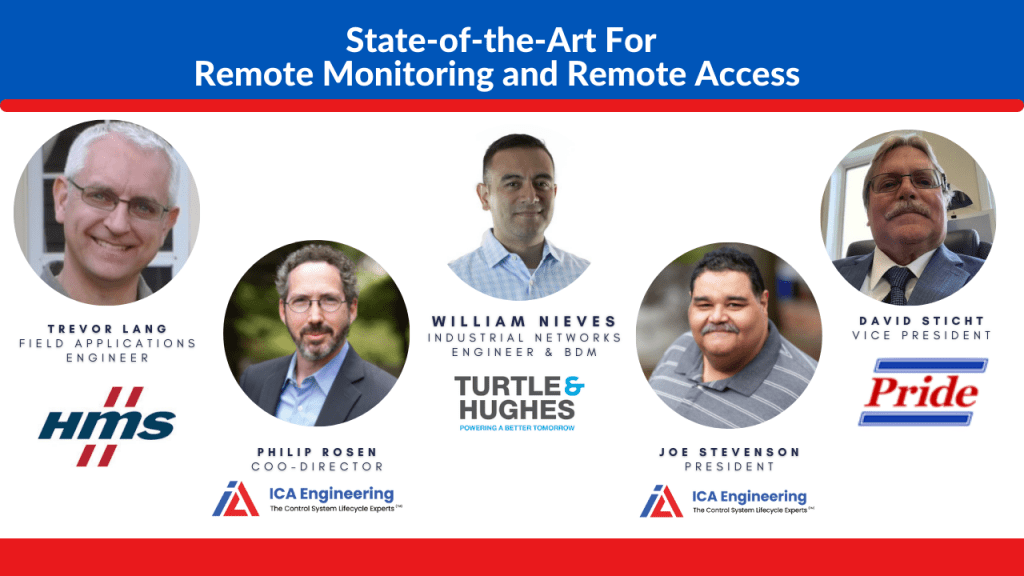 Too often, businesses overlook potential cyber threats in their everyday working environment until those threats come to fruition. And when they do, key stakeholders are all the more motivated to be solution-oriented — not to mention potentially panicked, stressed out, and likely to pass those very emotions on to their employees. But what if we could get ahead of these issues, giving businesses the time to strategize rather than make rash decisions? 
Recently, ICA Engineering CEO Philip Rosen and President Joseph Stevenson conducted an insightful webinar discussion with Trevor Lang, a Field Applications Engineer with HMS, William Nieves, Business Development Manager and Network Engineer at Turtle & Hughes, and David Stick, the Vice President of Pride Solvents, on the topic of state‑of‑the‑art remote monitoring and access for industrial applications.
You can access the webinar replay here to listen to the whole conversation. Below, we've summarized a few of the key takeaways from the discussion:
Why Remote Access Security is Important?
The surge of companies moving business to remote environments over the past year has dramatically changed the remote security game. Whether employees use company-provided equipment or their own devices, the threat of cybersecurity breaches are now increasingly present. There is a common misconception amongst companies that remote access creates greater vulnerability to attack — however, remote network and internet access is utterly vital in today's digitized business landscape. Rather than regress, then, organizations should strategize to determine the most optimal way to implement remote access within an infrastructure safeguarded with layers of security. 
Increasingly sophisticated threats make it more and more difficult for companies to maintain the in‑house resources needed to protect and diagnose their automation systems. Ransomware attacks, for example, could result in a loss of your enterprise's data, and in some cases even a complete shutdown of operations and resultant loss of revenue. Cyber hackers are also capitalizing on widely available free tools to help them exploit weaknesses. Advanced scanning tools like Google Dork and Shodan make it easier than ever for hackers to identify and access assets connected to a network.
Leveraging Knowledge and Technology to Improve Remote Access Security
ICA Engineering has built a team of industry experts including control system engineers, integrators, and business process designers to ensure custom solutions catered to your business. Specializing in control systems lifecycle management, ICA partners with organizations to develop multiple layers of security, from encouraging employees to enable multi-factor authentication to incorporate advanced solutions that help companies detect suspicious activity in real-time, empowering them to act quickly in deploying crisis plans. 
Automated maintenance and innovative solutions like instant notifications when a new device is added to the network put the power to be responsive — and proactive — into the hands of systems operators and users.
Remote Monitoring for Proactive Security
Implementing remote access security will not only help in preventing and catching cyber attacks but can also bring a significant return on investment with greater operational efficiency. In today's high-tech climate, experts are seeing hyperconnectivity from users who expect updates instantly when they upload their data in the cloud. ICA Engineering's product offerings are part of an integrated network that includes live data analytics. With reliable and flexible products, customers are able to integrate their machines into their network and start tracking their data and maintenance history, enabling them to identify areas of improvement and get ahead of potential issues. 
Some of ICA Engineering's newer products have been developed with technology that can detect if the firmware has been tampered with, rejecting startup and remaining locked if an unauthorized activity is identified. This technology is of particular value in organizations with a large employee population and a wide range of devices to track.
Are you ready to take your control systems into the future with confidence and security? ICA Engineering approaches each customer case with a comprehensive, four-phase process that includes:
Define                 Fully defining your requirements for now and the future
Design                 Creating a solution optimized for your application
Develop              Including acquisition, integration, fabrication
Deliver                From installation and commissioning to training and support
Get started by contacting ICA Engineering today, and entrust the control system for your industrial applications to a proven team of forward-thinking and award-winning experts.